Mason Infotech and Nottingham Moderns RFC up their game to tackle climate change!
02/12/2021
A team effort between local business Mason Infotech and Nottingham Moderns RFC helped kick off a project to tackle sustainability and ensure 400 new trees were firmly rooted in ground along the riverbank at the club.
A working partnership between local company Mason Infotech and Nottingham's only rugby club, Nottingham Moderns RFC has enabled Mason Infotech to achieve carbon neutral status in a very short period of time. Stephen Mason, owner of Mason Infotech was initially inspired by his time spent in New Zealand where open space is valued and traffic congestion much less than here in the UK.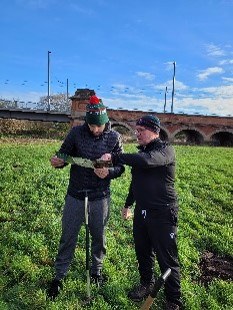 Returning to the UK he was invited to a course at Nottingham Trent University entitled Sustainability and Inclusive Leadership (SAIL). A question was posed. Could a small business really make a difference when it came to climate change? The course delivered the relevant knowledge and the Covid pandemic involved choices – working from home, removing the need to travel, eliminating site visits and "on premise" client meetings. The search for a "carbon neutral" future began.
An e mail from the University of Nottingham Energy institute provided a further opportunity to move forward. The Energy innovation and Collaboration team at UoN gathered information on the company's greenhouse gas emissions and their informed estimate suggested Mason Infotech could reduce emissions from nearly 9,600 kg of CO2 to just over 1500kg CO2 per annum – the quest began. Working from home was made a permanent feature, electric vehicles are used where possible, and a recycling of old IT appliances offered to clients.
Nottingham Moderns RFC had also looked at the future sustainability of the club. During an extensive refurbishment in 2013-14 they completed the installation of a water based underfloor heating system and the installation of solar panels which meant the club was able to move away from a gas-based heating system.
The trees, provided by the Woodland Trust, represent the starting point for Mason Infotech's sustainability programme. Claiming to be carbon neutral is great. But there will be other initiatives to follow to help toward the broader landscape outlined by the UN's sustainable goals.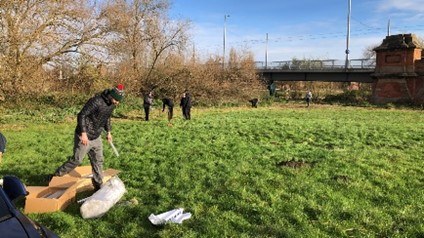 Stephen Mason, MD of Mason Infotech commented,
'Moderns, like many other sporting clubs became increasingly important during the pandemic, providing outdoor space to exercise and a sense of belonging and wellbeing for members. It's my home club, so we are delighted to have been able to work together to kick this project off the ground and tackle sustainability. A massive thank you to all those volunteers involved last Sunday in getting all the trees firmly rooted in the ground!'
More information on Nottingham Moderns RFC can be found here