Your technology experts
We have built a team that has many years of experience in the technology industry. As a result, our knowledge and technical expertise is second to none in terms of specifying, implementing, and supporting technology and communications solutions. We approach our clients with expert levels of professional know-how, allowing us to provide outstanding service every time.
Steve Mason – Managing Director
Steve has over 30 years of experience in the telecoms industry. His career began working locally for Plessey, and over the years Steve has worked with BT, Concert, and Sprint on a national and international level. Working mainly in sales and commercial roles, Steve focused primarily on managed services and outsourcing agreements.
In 2002, Steve opened Mason Infotech's doors for the first time. His mission is to use his global IT expertise to bring knowledge to Mason Infotech's clients, while providing fantastic, 'local' feeling service.
Outside of the office, Steve is a huge rugby fan, and can often be found at The Bay coaching Nottingham Corsairs and supporting Nottingham RFC. Other than that, he enjoys cycling, golf, time spent with family and the great outdoors.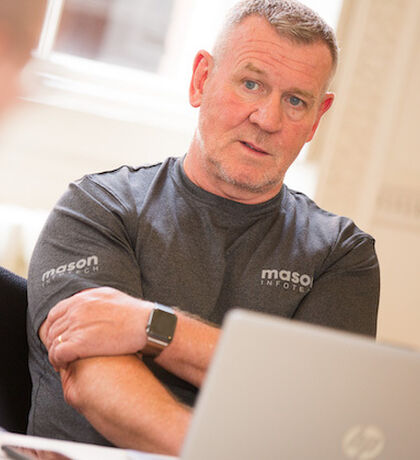 Al Footitt – Network Systems Engineer
Al began his career in the RAF at 18, qualifying as a Tornado Pilot, Al undertook a number of military operations before a tenure as an instructor. After leaving the RAF and spending a period of time in Australia, Al has returned to the UK and has made his name at Mason Infotech as the best multi-discipline engineer in the business. He is responsible for producing the technical design and in life management of our solutions for all of our clients.
Al still has the bug for flying. When he's not hanging around under his latest powered wing, he enjoys discussing astrophysics and spending time with his young family.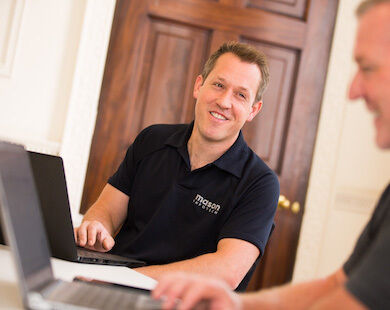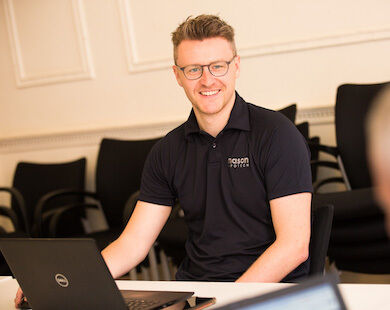 Joe Elkington – Network Services & Operations
Since joining us in 2014, Joe has become an integral part of our network services and support team. Joe oversees orders and the provision of new services to clients, as well as the installation of infrastructure and efficiently processing customer enquiries. Joe's expertise in customer service gained during an impressive career in the hospitality industry aids Mason Infotech's efforts to provide personable, local, and professional service.
Joe is the office's resident Forest fan and holds a season ticket at the City Ground. What's more, if you have a question about cars, Joe's got the answer - he's the office petrol head!
Mark Wormald - Lead, Microsoft Cloud Practice at Mason Infotech
Mark is a service-oriented IT Engineer with extensive experience in Technical & Team Management and Technical Consultancy with a proven track record in delivering business resilient systems to meet business objectives and compliance targets.
Why not get in touch?
Whether you're looking for an end-to-end service provider or long term strategic IT planning and support, get in touch with us. Our friendly team will be more than happy to help.
Get in touch