Nottm4Grads help Mason Infotech define a new approach to marketing
16/06/2020
Oscar, Katie and Dishant, all NTU students, have been busy over the past couple of weeks helping Mason Infotech redefine their approach to marketing. All part of the Grads4Nottm initiative designed to highlight great business in Nottingham, the scheme is a NTU-exclusive two-week work experience project which focuses on graduate retention in the city and gives local employers the opportunity to showcase their business to students.
This year has been very different as all the communication and engagement has been virtual, through technology. It simply has not been possible to meet face to face at any stage of the process. The students were challenged to review how Mason Infotech could attract new business in a competitive market. New ideas were brainstormed, a 'swot' completed and a few new ideas have been developed and tested.
As IT is such a broad and complex area for most small businesses, the students focussed on the problems that businesses most commonly associate with IT, and how it affects their business. A number of different ideas were 'consumer' tested and examples of the adverts created to drive traffic to a landing page are below. These could be used on a variety of media from social media posts to bus back, tram or tram stop or even billboard adverts.
The landing page will provide any visitors with further information on how the problems can be overcome, along with references where Mason Infotech have helped others with similar issues.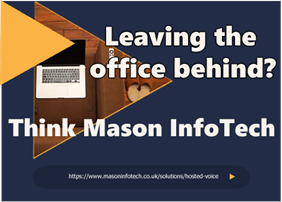 We have developed Hosted Voice over a long period of time and have gained a practical knowledge of supporting solutions from all the major vendors including Cisco's BroadSoft and Microsoft's Teams and telephony solutions.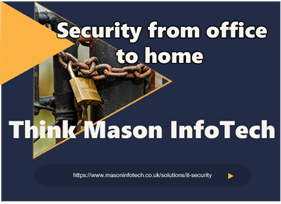 Modern organisations don't work from one place anymore and as cloud services become ever more prevalent, and we continue to 'work from anywhere,' the boundaries for security are changing.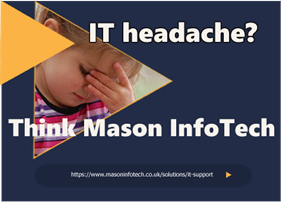 With our years of technology industry experience and expertise and we're confident that our consultative approach can offer knowledge and support that's second to none. Our experience working with businesses in many industries has enabled us to develop a wealth of business nous that we utilise to deliver progressive services that work for you.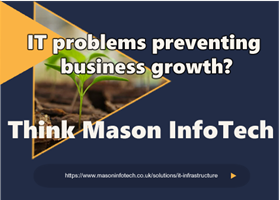 Your IT infrastructure is the foundation that supports your entire IT strategy. We provide personable IT advice in building your IT infrastructure, enabling you to build a flexible, tailored solution that fits your business needs. We've built excellent relationships with Cisco, Cisco Meraki, Avaya and many other manufacturers, which have enabled us to build, implement, and manage office networks for our clients.