Save money on your fibre internet with all-new FibreLight
20/06/2022
Super-scalable, cost-effective, reliable and fast connectivity for your growing business.
We're an approved partner of Faster Britain, which means we offer and install a full-fibre internet solution* ideal for SMEs that need reliable connectivity to run their business without the hefty price tag.

*For on-net regions only, please get in touch and check your postcode.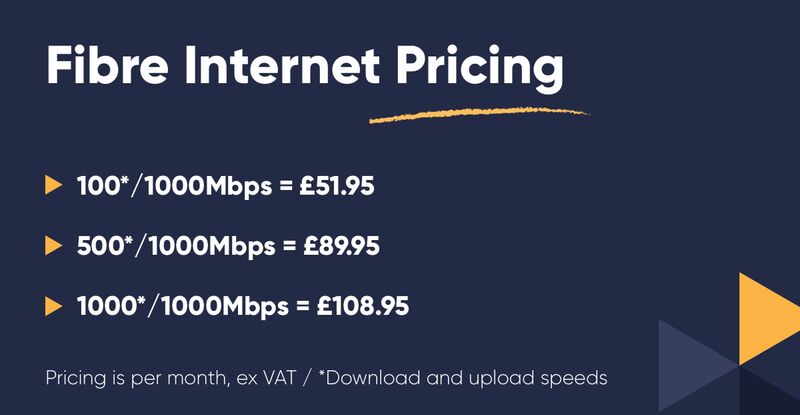 Benefit from the reliability of FTTP connectivity and future-proof your business with Faster Britain networks, which support cloud-enabled technologies, server connections and running IP-based services. That means your business can scale and communicate much more effectively.
Faster Britain is delivering full-fibre connectivity to businesses* across the UK, putting the world firmly at their fingertips; boosting the economy and creating job and training opportunities.

Why Faster Britain connectivity is different to the rest…
Using the Faster Britain network, we can switch your existing service to run over our Faster Britain networks – hassle-free, with no downtime.

Installation to the Faster Britain network is quicker than the industry norm.

Using Faster Britain, we can design bespoke solutions if an 'off the shelf' service doesn't give you what you need, as every SME is different!
Why choose FibreLight fibre internet for your business
Fast install

No need to wait around, we can have you up and running in as little as 10 days.
Price
Working with ITS, we can offer Faster Britain networks which provide the best value in the marketplace, delivering outstanding service at an exceptional price.
Symmetrical
Identical upload and download speeds (all the way up to 1Gbps). Pick the speed you need.
Low contention
FibreLight is a low contention solution that provides the reliability of a Leased Line without having to make the jump into the next price bracket.

Key features and benefits for your business
99.5% uptime

Bandwidth options of 100Mbps,

500Mbps and 1Gbps

UK-based specialist support team

2-year contract term

24 hours repair SLA

Static IP address

Simple RJ45 presentation

RJ45 plug required to connect to the ONT (Optical Network Termination)

Proactively monitored Next Generation Network

At Mason Infotech, we make the experience of faster connectivity simple and straightforward for growing businesses. Get in touch today to discuss your options when it comes to FibreLight and joining Faster Britain's network to future-proof your business with fibre internet.
Super-scaleable connectivity for growing businesses
Feeling the pinch? FibreLight full fibre internet can cost-effectively bring you up to speed
Contact us